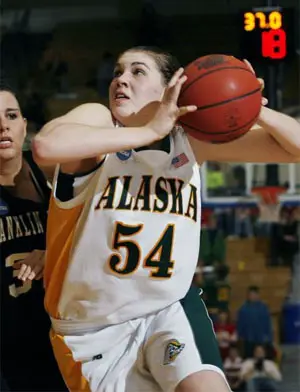 Many sports minded youngsters, whether male or female, who have more than the average skills would prefer to stay in their country to play for their fellowmen. But sometimes, there are just golden opportunities so hard to pass up even if it means going to another country.
A young American lady named Rebecca Kielpinski is one student who wants to follow her heart all for the love of sport. She's one of two players from the U.S. who will be joining the Lemvig team of the Danish Dameligaen professional basketball league. Basketball is also a popular Denmark sport.
This 22-year-old lady is a great volleyball player but she's willing to pass up the chance to be in the UAA volleyball team. She is known as the All-American center who led the University Athletic Association to the NCAA Division II Final Four.
Rather than staying in the Anchorage school, Kielpinski is excited to go to Denmark. What's interesting about this female player is that she's not only going to play basketball as a Denmark sport but she'll also get the chance to coach a team of young players all aged 14.
Kielpinski's remarkable achievements include setting nine school records for Seawolves and becoming the third women's basketball player from UAA to go pro in the recent years. When offered to be part of the Denmark sport, she accepted the offer the day after without any second thoughts.
This 6-foot-2 young lady will leave for Denmark on August 8 and will be staying the Jutland Peninsula. The season for the Denmark sport of basketball starts in October. Kielpinski still plans to go back to her school next summer to complete her degree. She's not sure, though, whether to continue pursuing volleyball because it's basketball that really made her a four-year star for the UAA.