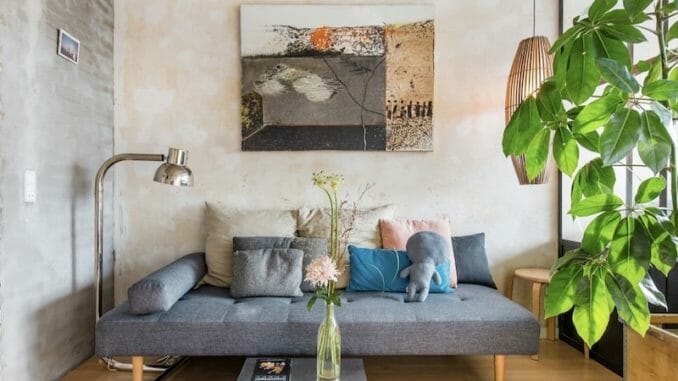 In the past decade, options for holiday accommodation have been expanding beyond the traditional hotels and hostels. Holiday rentals and apartments in Copenhagen are now a huge market and no wonder – it's a cheap and easy way for tourists to experience a destination like a native.
We've already given you some recommendations for unusual accommodation in Copenhagen, and some tips on finding the best holiday home rental. In this article, you'll find advice about finding your ideal apartment rental in Copenhagen.
Why rent apartments in Copenhagen or Denmark ?
In case you need some persuading to step out of your hotel-based comfort zone, here are some reasons why renting is so popular, starting with cost. Many options are extremely affordable, and can even offer discounts for longer stays.
But if you have a bit extra to spend you can live in luxury, with the best views, best location and best facilities. Either way, you can save more when you're there, by taking advantage of a free parking space or shopping at a local supermarket and cooking some of your own meals.
You can also pack fewer clothes and wash them during your holiday to increase suitcase space. That'll make it easier to pack the souvenirs from the tourist spots that could be right outside your door, as many rentals are very conveniently located, too.
What are my options for renting in Copenhagen ?
Although there are dozens of options for holiday apartment rentals nowadays, it's worth choosing a tried-and-tested company that has a range of options and good reviews. The "big three" established names are Airbnb, HomeAway and, more recently, Trip Advisor.
Airbnb in Copenhagen and Denmark
Airbnb has been very prominent in recent years. They have a fantastic range of apartments (and other places, from tents to houseboats) in Copenhagen, so there's bound to be something to suit you, whatever your taste or budget. Don't fret about the number of guests, either – there's anything from 1-2 people right up to a maximum of 14!
The apartments are located across the city, from Fredericksberg and Nyhavn to Østerbro, Nørrebro and Vesterbro, bringing you in proximity to any tourist attraction you want, or to public transport like the metro or the train station.
Travelling around the city is even easier when you get 2 bikes included with your rental – and you can feel just like a local! And of course, there are a range of places that are family-friendly, and pet-friendly, or even advertised as hyggelig.
The majority of rentals on Airbnb are for whole apartments, which means no sharing with strangers, or your hosts. The average price for a rental is DKK758 per night (about $177/£88/€102), but they're available for as low as DKK300 ($46/£35/€40). The example I looked at was simple but welcoming and still near to public transport, or approximately 20 mins by bike to tourist attractions like Tivoli, Kastellet, and Rosenborg Castle.
HomeAway in Copenhagen
I hadn't heard much about HomeAway before this, but they're one of the oldest online holiday rental services. They also offer a range of accommodation, including in picturesque Nyhavn, but there are fewer apartments on offer. The clientele tends to be slightly wealthier, and there are a lot of house rentals instead, some with pools or BBQs.
Trip Advisor in Copenhagen
While they've been well-known in travel circles for years, Trip Advisor has recently started branching out – but they already have hundreds of thousands of properties around the world. In Copenhagen, they have a comfortable range of affordable and luxury accommodation, although not quite as broad as Airbnb at the lower end.
The main draw here, though, is being able to book multiple parts of the holiday at the same time, such as restaurants and tourist attractions. I was also pleased to notice that it was easy to search for places with wheelchair access – not always guaranteed in a city where apartments more often than not lack an elevator.
Words of caution before to rent apartments in Copenhagen
There are a few things to bear in mind when booking online. Unfortunately, scammers are keen to take advantage of people and the last thing you want is to lose your holiday money, so here are a few tips to follow. Most are common advice for staying safe online.
The website – make sure that you're on the legitimate website, especially if you've clicked on a link to get there. The website name (URL) should start with https:// and there should be a padlock symbol next to it on your web browser.
E-mails – always check that an e-mail is from an official source, especially if it's telling you that you need to send more money. Nothing is so urgent that you can't take the time to check it first. Most companies only use a handful of addresses; for example, Airbnb uses 11 that can be found here.
Payment – always pay through the website to receive the company's protection from fraud, and make sure you follow their other rules to support any claim you might need to make. Payment by credit card is also recommended, as it comes with further protection.
Reviews – if they're missing or negative, move on. If they're mixed, look at the more recent ones to get a more accurate picture of what your stay might be like; if you're ever in doubt, try a different rental. On Airbnb, the most reliable, well-reviewed hosts are given a Superhost badge, and you can search for this when looking for a rental.
The host – an empty or sparse biography might be another cause for concern, so it's worth checking. Make use of a website's facilities, such as Airbnb's chat facility, to talk to a prospective host and ask them questions about their property. If they're evasive on details, steer clear.
Renting apartments in Copenhagen has never been easier – there are more options than ever. Whatever your budget, and wherever in the city you want to stay, there's something for you – just remember to keep an eye out for scammers – so enjoy your next Copenhagen holiday!