Getting a bike around Denmark is fun, convenient and affordable. That is if you know how to ride a bike.
Bike Denmark : How to Use Copenhagen's Free Bike System
As many of you are aware, Denmark has a biking lifestyle that other countries follow. The ByCyclen free bike program encourages people to use the bicycle in going to their destinations as a way to cut carbon emissions in the country. There are also dedicated paths meant only for the bike on the main city streets as well as in the outskirts.
Using the bike system is free. However, one needs to obtain a 20 kroner Danish coin first as this is required to release the bike from its lock. Don't worry, though, because you can still get the coin back when you return the bicycle after use.
When you need to park the bike, there are 110 racks spread all around the city. All locks are interchangeable so you can park yours at any available rack situated in the downtown area.
Make sure to go to the bike racks early at least before 8 a.m. or there won't be any left for you to use. Even if Copenhagen has 2,000 of these free bikes, they are taken like hotcakes especially when the weather is fair and the sun is out. You have to be conscious of this particularly if you're planning to take a tour of the city for the entire day.
Once you have obtained a bike, be a responsible user. Keep in mind to park them only the designated racks where there are locks to prevent other people from stealing it and getting your deposit. Observe the right speed and most importantly, obey traffic rules. Bike traffic is heavily regulated so it is best that you follow the laws. Use only the dedicated bike lanes and observe the proper bike signals.And don't take the bike out of the Copenhagen city bike zone or you might get fined by the police.
After you're done using the bike, return it to the appropriate station and put the lock back. This will ensure that other people can still use the bike the following day.
Gear Up for a Bike and Dine Tour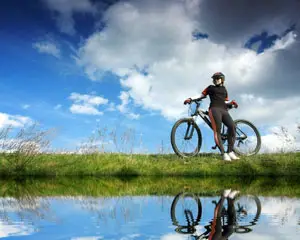 Biking is really a fun and great way to explore the beautiful surroundings of Denmark country. I've already shared with you the guided bike tour with Mike that you can take around Copenhagen. Now if you're the adventurous type, there's another way to tour this Nordic country by bicycle.
For people who love to pedal around without the rush, going on a self-guided bike and dine tour on Denmark's Funen Island is worth it. This option lets you take your own sweet time while biking through the wonderful attractions in several places without having to worry about catching up with the others. And you'll be fairly compensated with scrumptious three-course dinners that you can enjoy during your four-day Denmark tour.
First night accommodation is provided at the Knudsens Gaard Hotel in Odense and a bike with a front basket is what you'll use for your tour of Funen. Nyborg situated on the eastern coast of the island is the first destination. Nyborg is a small town with an old brick castle. Places of interest along the way are the 13th century St. Knud's Church and the museum of author Hans Christian Andersen. While in Nyborg, the Hotel Hesselet on the beach area is where you'll spend the night.
Second stop is Kerteminde, a fishing village which features a town aquarium and the Museum of impressionist painter Johannes Larsen. You will also find there the Funen School of Art and the painter's house built in 1901 plus you'll get the chance to experience the old-fashioned ambience of Tornoes Hotel. Going there you will see manor houses and farm stands.
The last stage of your self-guided bike tour will take you back to Odense. On the way, you will see the Ulriksholm Manor constructed in 1616 and the museum located in the Ladby village where an old ship believed to be 1,000 years old was discovered in 1934.
Guided Bike Denmark Tour with Mike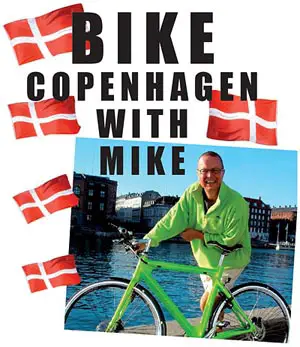 All bike lovers out there planning to visit Denmark anytime soon should read this. If it's still your first time to this country and you're raring to pedal around, it is highly recommended that you take a guided bike tour. In this way, you won't get lost and get out of the ordinary information of the wonderful sights you may not have read before.
Bike Copenhagen with Mike is a guided tour with Mike Sommerville, a resident of Denmark's capital of Copenhagen. This man started his unique program two years ago after visiting five continents and confirming that people are very hectic when it comes to traveling. His goal then was to provide people an alternative to slow down and enjoy Copenhagen's fresh air and beautiful spots. And his answer to that was his bike sightseeing around this lovely Scandinavian city.
During this guided bike tour that will take around three hours, bikers will be able to get to stop by and marvel at popular tourist attractions such as the Danish royal Amalienborg Palace, Copenhagen History Museum, the Assistens Cemetery where the famous author Hans Christian Andersen was buried, the Little Mermaid statue, the Opera House as well as wonderful views of nature.
What's interesting about this bike tour is that you will get first hand information about the sites from Mike Sommerville himself. You will get to know not just the names of the attractions but also the stories behind them. Mike's edge is he speaks very fluent English and answers all your questions as if he's been in Copenhagen for the longest time.
This Denmark capital has around 2.5 million bikes and 225 miles of dedicated bike paths. And if you're still not aware, 40 percent of the city's population pedal their way to work every day. So the next time you visit Denmark, pick your choice of a bike tour with Mike – city tour, night tour, countryside tour or individual tour.
Thanks for Flickr user Stig Nygaard for making the picture of the bike in front of the Metropolis building in Copenhagen available under a Creative Commons license.