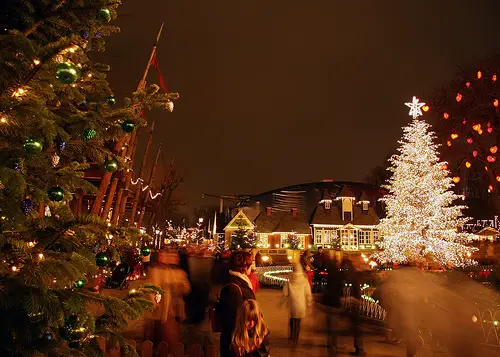 When you happen to be in Denmark from November to December, the Tivoli Gardens is one place you should not ever miss. It is here where you will get to experience the loveliest winter wonderland featuring lots of Christmas lights and decorations all over the place.
The Tivoli Christmas Season starts early November and runs for almost two months each year. From being a regular amusement park on ordinary days, this famous tourist spot in Copenhagen becomes a festive area filled with colorful and twinkling lights and sweet treats for sale. The lights that surround the Tivoli village are made up of more than 1,800 light chains all in an effort to create a vibrant Christmas atmosphere within the entire amusement park.
Santa Claus and his helpers are present to greet guests and pose for souvenir photos with them. There's an open air stage area as well where children can visit Santa's sleigh filled with presents for kids.
For an unforgettable family outing, taking a stroll around the market with more than 70 different stalls is a great activity to do. The market is also where you can buy some authentic Danish produce from food and drinks to creative decors that's only available during the Christmas season.
Visitors who can brave the cold are most welcome to go ice skating at the Tivoli Lake at night for a more romantic activity.
Food should not be a problem as there are some 38 restaurants in place at the Tivoli Gardens. Visitors just need to choose whether to go for the traditional Danish dishes, the modern cuisine or the fast food.
Musical entertainment can also be experienced during the Tivoli Christmas in Copenhagen. Performances are normally scheduled at the Glass Hall and the Concert Hall. Events that take place include musical concerts and ballet performances among others.
The usual rides continue to operate such as the 150-year-old double decker merry go round which is believed to be the world's oldest carousel. And don't miss the Pixieville where hundreds of mechanical pixies are shown preparing for the Christmas season.