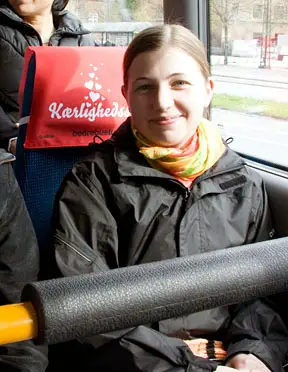 Are you single and looking for love in Denmark? If you are, then try taking a bus in Copenhagen! This may even be a cheaper and more effective alternative to online dating sites.
It's because city buses around the Danish capital of Copenhagen are now equipped with two love seats. More than 100 buses already have these seats installed courtesy of Arriva Scandinavia. Every bus has two love seats colored red and are positioned next to each other.
So who is allowed to sit on them? Well if you're single and unattached, then you are free to use the seat. This means that when you sit there, you're letting the public know that you're available. Don't forget to do a little flirting, smiling and give compliments to attract attention.
The goal of Arriva Scandinavia is to continue this love seat program for two more weeks. The company is actually encouraging single people who want to be seated at those exclusive love seats to learn the habit of flirting and smiling while taking the bus ride.
Today, staying single is no longer being frowned upon by people. It's well accepted by society even if you remain unmarried or unattached for a long time.
But then again, it's not also taboo anymore to look for love even in the case of women. With this opportunity presented to residents and visitors of Copenhagen, who wouldn't want to find love on a bus? Anything is possible when it comes to love, right?
So instead of spending your money on gas and driving alone in your car, why not try taking the bus in Copenhagen and keep yourself comfortable on those love seats? Who knows, Cupid will be at work while you're in there.