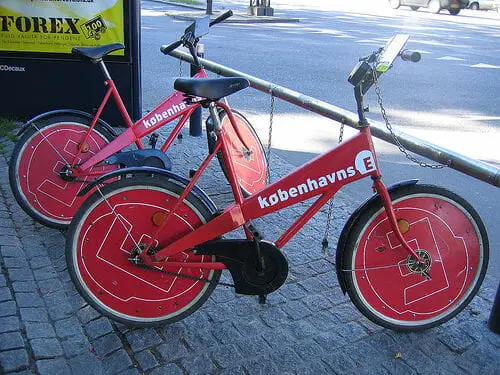 Bycykler København is the bicycle sharing system in Copenhagen which allows anyone to borrow a bicycle for free. All you have to pay for is a minimal refundable deposit of 20 DKK. These special bikes are gearless to keep them within city limits and they have puncture resistance tires to reduce maintenance. This concept has been ongoing for the past 15 years. Currently, there are 110 bicycle stands in in the city including S-trail stations.
The project was initially implemented to reduce bicycle theft, but being the Green City that they are, Copenhagen decided to utilize the campaign to encourage more people to ride a bike instead of taking a car or other motorized forms of transport. Throughout the years they have been implementing a Cycle Policy that would increase the number of people who take the bicycle to work. This scheme aims to increase comfort and safety of cycling in the city.
Copenhagen has created cycle paths, greenways, bridges and parking areas to make cycling more convenient. Even tourists find see it as a tourist attraction. They enjoy going around the city in these colorful and trendy bikes. This bike culture model is an inspiration to large cities such as Melbourne and New York, who have placed bike lanes to encourage cycling.
Take pleasure in the unlimited use of these bicycles during the day and in summer months. If you do decide to go for a ride, do not forget the following traffic regulations:
Don't bike in pedestrian streets
Don't bike in zebra crossings
Don't bike on sidewalks
Don't bike in parks
Don't bike after dark
Keep to the right
Don't lock them with your own locker.
Don't ride the citybike out of the citybike zone.
Visit http://www.bycyklen.dk/ for more information and bike routes.
Image from supervillain