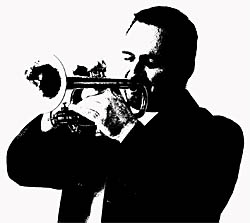 The 31st Copenhagen Jazz Festival starts today and will go on until July 13th. As you know, two lucky winners from our Denmark.net Jazz Weekend competition will visit the festival for its grand finale next weekend.
This year's festival features over 900 concerts.
More or less useful trivia on the Copenhagen jazz festival.
Did you know that …
The first Copenhagen Jazz Festival was held in Copenhagen in 1979.
The Copenhagen Jazz Festival always starts the first Friday in July and lasts for 10 days.
This year's festival poster was created by artist Tal R.
The Copenhagen Jazz Festival attracts each year over 80,000 guests, over 35,000 of them from outside of Denmark. This adds up to over 9,000 hotel nights.
The average tourist to the Copenhagen Jazz Festival spends $180 per day.