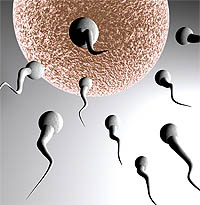 Business is booming for the world's biggest sperm bank, Denmark's Cryos, which is struggling to meet demand despite a soaring number of donors and new offices opening around the world.
At Cryos headquarters in Denmark's second-biggest city Aarhus, chief executive Ole Schou smiles broadly, sitting at his desk adorned with pictures of cheerful babies as he speaks of the company's unexpected success.
Two years ago, he was ready to shut down the business, or at least move it abroad, because of a Danish tax authority proposal that would have required donors to declare income from their donations, thereby putting their anonymity at risk.
But when it became clear that this would sound the death knell for Cryos, tax authorities withdrew the proposal.
A year later, in 2008, the number of donors had grown threefold, from 30 a day to 100 at its four Danish offices in Aarhus, Copenhagen, Odense and Aalborg, while the number of men applying to be donors had risen from 350 to around 1,000.
As a sign of its success, the sperm bank recently moved its headquarters to a 1,000-square-metre (10,760-square-foot) airy and bright office space brimming with photographs of dimple-cheeked newborns.
It has also doubled the number of employees, and sales have risen from two million euros ($2.7 million) in 2006 to three million in 2008.