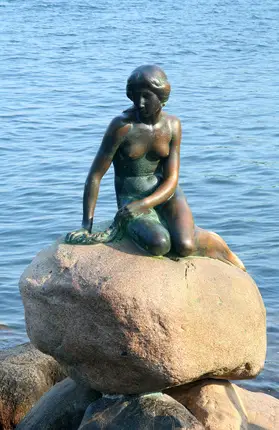 The statue of the Little Mermaid sits on a rock in the Copenhagen harbour. This small and unimposing statue (the Little Mermaid is only 1.25 metres high) is a Copenhagen icon and a major tourist attraction.
The Little Mermaid statue came to Copenhagen in 1913 as a present from Carl Jacobsen (from the Carlsberg beer breweryy). The Little Mermaid was crated by sculptor Edvard Erichsen.
The Little Mermaid character is taken from the fairy tale by Danish author and poet Hans Christian Andersen.
It is the story of the Little Mermaid who saves the life of a shipwrecked prince and sets off on a perilous quest to win his love. The price she pays is dear: To become human she must give up her lovely voice as well as her mermaid's tail, and if the prince should wed another, she will turn into foam on the waves and disappear forever. Even after making the sacrifice, the can't wed the prince. You will recognize a sad, melancholic look on the face of the statue…
The sculpture pictures her as she sits and looks out over the water reminiscing her lost mermaid past.
Little known facts about the Little Mermaid in Copenhagen
The Little Mermaid in Copenhagen is a copy; the sculptor's heirs keep the original at an undisclosed location.
There are similarities between the Little Mermaid statue and the Pania of the Reef statue on the beachfront at Napier in New Zealand. Pania of the Reef is a figure of Maori mythology.
In 1961, bra & knickers were painted on her, and her hair was 'dyed' red.