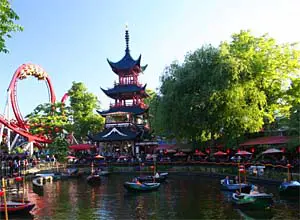 Tivoli Gardens is a famous amusement park in Copenhagen Denmark. It has a rich tradition that started way back by a man named Georg Carstensen who got a five year charter from King Christian VIII  when he explained that if people had something to amuse themselves, they would not think about politics. He roughly was given around 15 acres of land as Tivoli was outside the city, accessible through Vesterport. Tivoli originally had cafe's, flower gardens, and mechanical amusement rides, but over the years that has changed. Tivoli soon learned that it would have to abandon its charm and go to a more theme park style and that has brought about many different changes all for the better it seems.
Today Tivoli Gardens is a very popular amusement park among the locals and visitors to the area. This park is best known for its wooden roller coaster named the Rutsjebanen or some people call it Bjerg Banen, which means Mountain Track. It was built around 1914 in Sweden and is one of the oldest operating wooden roller coasters in use today. Other attractions at Tivoli that you will enjoy is the Daemonen which features a Immelmann loop and a Zero-G roll giving you a very fast thrill ride that will leave you speechless. Now many people do not realize that Tivoli Gardens also played host to Jamie Cullen as part of the Copenhagen Jazz week as well. During the summer months the park is home to many different events including Fredagsrock, which is dubbed Friday Rock where some top musical acts such as the Smashing Pumpkins, Sting, and the Pet Shop Boys.
As you can see Tivoli has really evolved from what one guy's idea and today is a place where people go to enjoy themselves for some fun. Tivoli Gardens is a place that has something for the whole family to enjoy from small to old and in the end a good time will be had for all no matter what their preferences maybe.
World's Longest Aquarium
Lovers of the sea and its creatures but who don't want to get into the real seawaters should definitely have something to look forward to when visiting Denmark. It is because they will have a great opportunity to see some unique aquatic creatures live in front of their own two eyes without having to go scuba diving.
We're talking about the longest aquarium in the entire Europe and it's situated right inside the Tivoli Gardens complex notably at the Tivoli Concert Hall.
For a little trivia, this project cost actually cost US$4.5 million and was completed in 2005. A closed recirculating system, this huge aquarium makes use of artificial sea water approximately 300,000 liters. It is a record setter in terms of having the single longest view panel for an aquarium in the world with some 1,600 marine aquarium fish species including sting rays and sharks in a real tropical reef environment.
This unique salt water aquarium is situated in the basement level of the Tivoli Concert Hall. Constructed in 1956, the hall was designed by Hans Hansen and Frits Shlegel. It is open to visitors the whole day except when there's a private function scheduled.
For maintenance, three technicians keep watch of the fish and sharks in the area. The entire aquarium is also supervised by a veterinarian.
Visiting Europe's longest aquarium not only lets you see different fish species but it allows you to visit Copenhagen's beautiful concert hall as well. Apart from this water facility, the concert hall has other wonderful features such as the orchestra pit which can accommodate 80 musicians, a Wagamama restaurant, an arcade, a rehearsal hall, meeting rooms and a canteen for the staff of Tivoli.