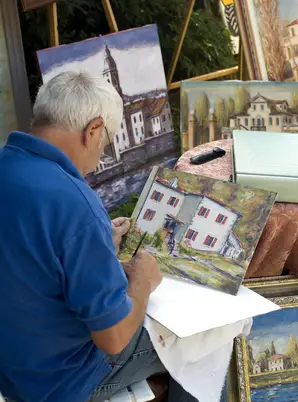 Taking a holiday art course can be a great way to learn or improve artistic skills. Denmark offers a wide range of painting holidays and art workshops, with techniques such as watercolour painting, oil, acrylic, sculpture or drawing.
If your partner doesn't want to take part in the art course, he or she can still explore everything else Denmark has to offer. The artists and tour guides strive to create a good balance between being alone and being part of a group. There is plenty of time to paint and draw, but time with your partner and time to explore Danish food and culture are an integral part of an art holiday in Denmark.
A relaxed painting holiday in Denmark guarantees a non-forgettable time painting, drawing and seeing the sights. The slow pace is ideally fitted to soak up the Danish life and to learn to paint or draw the way you've always dreamed.
"There are painters who transform the sun into a yellow spot, but there are others who, thanks to their art and intelligence, transform a yellow spot into the sun. " (Pablo Picasso)
There are different providers of painting and art holidays in Denmark. We will shortly provide a list to make your art holiday in Denmark a great experience.
If you just would like to add some "art" to your holiday, you can visit numerous galleries in Denmark. For example, to get artistic impressions, stop by Galleri Granborg Gaard, an hour south of Copenhagen: