Odense is the third largest city in Denmark and the name comes from the Norse God of Odin. The city has a population of about 158,000 people and the main city of the Fyn island. Let us lean more about this city in Denmark and what it really is all about.
Odense is one of the oldest cities in Denmark and celebrated its 1000th anniversary in 1988. To celebrate this great accomplishment a forest was named the Thousand Year Forest in recognition of this big achievement.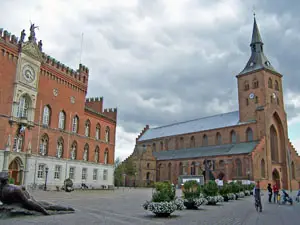 Odense used to be the second largest city in Denmark, but has recently been overtaken by Aarhus.
There are many famous residents that have come from this area and many of them you probably have heard of. The author and poet Hans Christian Andersen who authored many children stories and poems was from Odense. Inventor and industrialist Thomas B. Thrige and handball player Anja Andersen is also from Odense as well. Pete Eastgate who won the 2008 World Series of Poker that is usually seen on ESPN television is also from this area as well. As you can see many famous people either grew up in this area or still live here today.
Industry is something that Odense has a lot of and the biggest by far is shipping. The Odense Steel Shipyard is one of the biggest in the country. Sales of fruits, vegetables and flowers happen in this area as well. In the southeastern part of Odense you will find Rosengardscentret, which is where the shopping mall is located and many people go there to buy whatever they need. It is a good size mall and has almost anything you really would ever need.
Odense is home to different football clubs and it also has many different attractions that you will want to take in when you visit. One of the first places that you will want to go is the Odense Zoo, which has over 400,000 visitors a year. If you have ever been to a zoo before you know how much fun they are and this is one you will not want to miss. Funen Village is another area that you will want to go see as it has the theatre as well as the symphony orchestra to see.
One site that you do not want to miss is H.C. Andersen's House. It gets over 80,000 visitors a year and is a good place to stop and see where the famous author lived.
As you can see Odense is a place that has many different things to offer anyone who maybe visiting. From a young child to older adults you will find this city fun and enjoyable with plenty to see and do. It is not to big where you will get lost all the time and it has some great places for you to have a bite to eat and talk to the locals as well. Odense is definitely a place in Denmark that you will want to mark down on your map as a place to go.
See also: