In a bid to firm up its security measures especially against counterfeit money, Denmark will issue next week new 100 kroner banknotes. They have been well designed by Danish artist Karin Birgitte Lund and feature the country's bridges and old artifacts.
The new 100-kroner banknote will be released on Tuesday, May 4. Designed by Karin Birgitte Lund, the new banknotes showcase Denmark's renowned bridges and prehistoric artifacts. As advanced technology has been used to create them, the new banknotes of the Danish currency cannot be easily counterfeited or copied.
The designing process of these new notes began way back in 2006. Danmarks Nationalbank spearheaded the designing of a new banknote series with more advanced security features to replace the 1997 series which is now in circulation. Among the security elements are a window thread that has a moving wave pattern and a sophisticated hologram that is able to reflect light in a variety of colors. These are in addition to the usual watermark and hidden security thread.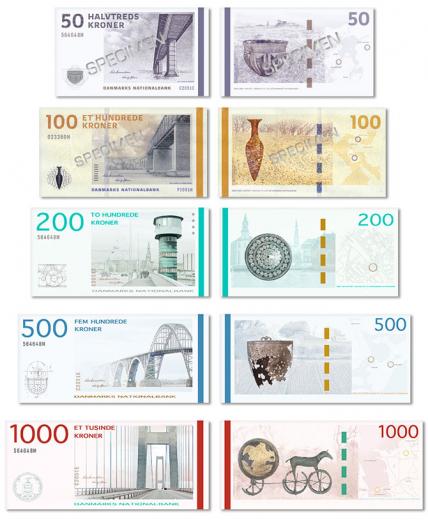 As for the theme, artist Karin Birgitte Lund chose to use bridges to symbolize links between the different parts of Denmark. They also refer to links of the past and present with the past symbolized by the five prehistoric items and the present symbolized by the Danish bridges. The bridges shown in the banknotes are the Sallingsund in the 50 kroner, Belt Bridge in the 100 kroner, Knippelsbro in the 200 kroner, Queen Alexandrine in the 500 kroner and the Great Belt Bridge in the 1,000 kroner.
The 50 kroner banknotes were issued last August 2009 to be followed by the 100 kroner on May 4. The 200 kroner notes will be released in October 2010, the 500 kroner in February 2011 and the 1,000 kroner in May 2011. The notes differ in sizes while the 100 and 200 kroner banknotes will have embossed prints to help the visually impaired people easily distinguish between the two.