Denmark tourism continues to be on the upswing. Several reasons can be attributed to this. Wonderful attractions both old and new, great people, beautiful views of nature and efficient service – all these are vital in boosting the tourism industry. But a new reason to visit Denmark land is the country's commitment to the green movement as evidenced in many areas.
Electric mini buses are now on the Copenhagen's roads as part of efforts to cut carbon emissions. Green and modern buildings are also in place. The latest attraction that boosts Denmark tourism and supports the eco-friendly campaign worldwide is the green pavilion called "Learning from Nature" at the Louisiana Museum of Modern Art situated in Humlebaek, Denmark.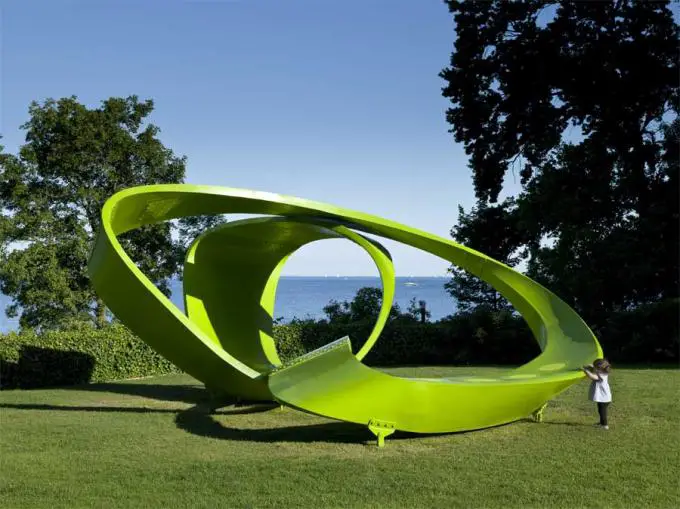 This unique and environment friendly pavilion designed by Danish practice 3XN is shaped like a Mobius band. The biological cycle of life is the inspiration behind this artwork which is also part of the Green Architecture for the Future exhibition. What makes it an eco-friendly work of art is because it was built using biodegradable bio-composite materials. Nanoparticles were used as coating and unaware to many of you, these nanoparticles actually help in cleaning surfaces and the air as well. The shell portion utilized flax fibers set in a natural resin while the inner core was made from cork sheets instead of the polystyrene foam.
And there's more. The structure actually has built-in sensors that generate energy just from the footsteps of people visiting the place while its LED light is powered by solar panels. The 3XN principal expressed satisfaction over the creation of the pavilion using sustainable and intelligent materials. Kim Herforth Nielsen pointed out that this latest project only proves that green architecture can really be active and flexible.
Creating this eco friendly pavilion took four months to complete. And not only one company was involved in this project but 20 companies in all. Currently, the structure is open to the public until October.