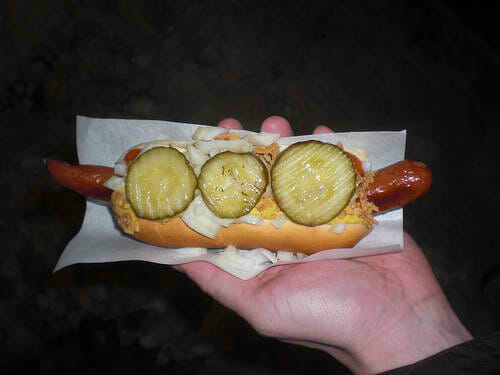 Street food is an integral part of any country. For Denmark, hotdogs or polsers are on top of everyone's list. DØP is the abbreviation for 'Den Økologiske Pølsemand' which literally means 'the organic sausage man'.
The whole concept of the DØP sausage cart is to provide healthy street food, because fast food can be good for you. DØP hotdogs are 100% organic and made of the finest ingredients. Even the packaging they use is environmentally friendly.
They sell weiners, pork and beef sausages. DØP uses special baked sourdough bread made of whole wheat flour, rye flour and linseed. It contains a high content of dietary fiber and flaxeed which is a good source of omega-3 fatty acids. The food cart also sells organic sauerkraut and rodfrugtmos which is a potato and parsnip purée. Rodfrugtmos without milk products are also available. This vegetable siding is nutritious and great for people of all ages.
All other ingredients used for the hotdogs such as the roasted onions, cucumber salad, ketchup, mustard and pickles are all organic and of high quality. The beverages served are also organic, from sodas, juice, beer, wine and spirits.DØP roasted hotdogs have a fat content of around 13.5-15.6 grams and they cost around 39dkk.
So if you are in Copenhagen, especially near the Round Tower, make sure that you try their version of healthy street food. The hotdog stands may also be rented out for events and other occasions.
Image from Like_the_Grand_Canyon