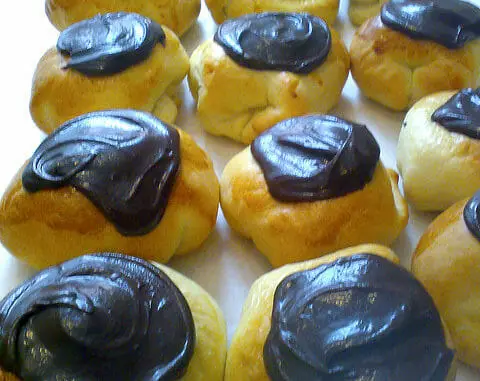 Fastelavnsboller are delightfully sweet buns that are served on Fastelavn, and are also called "shrovetide buns" or "lenten buns". They are often filled with cream or jam, and are a favorite treat given to children who have flogged their parents in the morning, as tradition and good-natured fun recommends. This recipe will require some elbow grease and patience, but it will reward you with a batch of Fastelavnsboller that is good for sharing – just don't forget to enjoy one yourself!
Ingredients:
Dough:
1 cup milk
2 tbsp butter
4 tbsp fresh/cake yeast
1 tbsp sugar
1 tsp salt
3 and ¾ cups flour
1 egg
1 additional egg for glazing (optional)
Custard:
1 vanilla bean
1 cup milk
2 egg yolks
2 tbsp confectioner's sugar
1 tbsp cornstarch
If you prefer filling your Fastevalnsboller with jam, just replace the custard with a jam of your favorite flavor.
To make the dough:
Heat the milk and th ebutter until both are warm(not hot or scalding) to the touch, and the the butter is thoroughly melted. In a small bowl, break up the cake yeast and pour the milk over it; stir to dissolve the yeast. Add the sugar, salt and egg, and keep mixing. Take your flour, and add a little of it at a time as you mix. When the mixture has urned into a dough, knead it thoroughly until it becomes smooth. Place ina large bowl, cover it with a tea towel, and let it rise in a warm place for one hour.
To make the custard:
Cut the vanilla bean in half lengthwise, and scrape out the seeds with a sharp kitchen tool. Place the seeds and milk in a small saucepan and let it boil. (Tip: save the eggwhites for a step later.) Beat the egg yolks and sugar together until it becomes a cloud of sunshine yellow sweetness, then add the conrstarch. Take half of the vanilla-milk and as you keep beating the eggs, pour half of the milk in slowly. When the milk has been fully incorporated into the egg mixture, pour everything into the saucepan. Keep whisking the mixture over a low, gentle flame until the custard thickens. Be careful to not let the it boil! Remove from heat, pour into a bowl, and place some cling-wrap right on top of the custard surface to keep it from developing a skin. Cool in a refirgerator.
Assembling the buns:
Prepare two baking parchment sheets and set aside.
Take your dough which has fully risen by now, and prepare the kneading surface by sprinkling it lightly with flour. Knead the dough until it is silky-smooth and elastic. Take your rolling pin, dust it a bit with flour, and roll out the dough until it is roughly a square of 15×15 inches. Slice this up into a dozen squares.
You can opt to make buns of each square from here, line them up on the parchment paper pieces, and bake them as is. After they have cooled, you can slice them in half and add your custard or jam, and serve. However, if you want to make them the traditional custard-or-jam-pocket style, follow these instructions:
Take a square of dough, and place a heaping teaspoonfull of custard or jam in the center. With the leftover eggwhites, brush the edges of the square to help seal it. Take the four courners of the square, and pinch it closed, making sure to let the air out. When it has been fully sealed, turn the bun over and place on the baking parchment. Repeat this step to the rest of the dough squares. When they are all done, again place a tea towel over the buns and let them rise a bit forther in a warm place for another hour.
Baking:
Preheat the oven to 190 degrees Celsius, or 375 degrees Farhenheit. You may desire to break open your optional egg from the dough ingredients, beat in a small bowl, and brush the bun tops lightly to glaze them. Bake for ten to twenty minutes or until golden brown. Remove from the oven, and let cool before serving.
You may wish to cover the tops with choclate icing, and decorate them with candy sprinkes and colored dragees.
Happy baking and eating!
Image by emme-dk