It is always a joy to expose children to wonderful attractions and to bring them to new places every now and then and especially when the budget fits. One reason why Denmark land has been frequently visited by families is because of the existence of great attractions where kids can really have a grand time.
If you're planning to bring along your kids to Denmark land any time soon or next year, there are several highly recommended places you should include in your itinerary. Other than showing to them the real statue of the famous Little Mermaid, there are other exciting places worth visiting at a minimal fee.
In the suburb of Hellerup, check out The Experimentarium. This is a science museum where kids can get their hands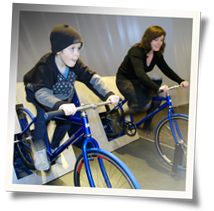 on various experiments. More than 300 experiments are being showcased here which guarantee a worthwhile discovery experience for your little children. Some of these are the sound and magnetism pavilion, barefoot crawl and the Sensation Zone.
If you'd like your little ones to see wild animals up close, then don't miss the Copenhagen Zoo which is one of Europe's oldest. With an estimated 1.3 million visitors each year, this place is one of the famous tourist attractions in Denmark land. Apart from just viewing the animals, kids here can try riding on a pony, watch a cow being milked or touch a snake and other people-friendly animals. There's also the Elephant House where visitors can watch this very large animal do its thing.
Denmark's amusement parks are not to be taken for granted. You can either go to the Tivoli Gardens for a chance to try the different rides there or visit the Deer Hill considered the first amusement park in the world. Both parks have lots of exciting activities for kids and adults alike.
Finally, bring your kids to the Copenhagen Harbor Swim Baths, also called Copencabana, for some splashing and swimming in clean water. If this is not enough, head off to the Amager Strand Park just 15 minutes away from the capital for a real beach atmosphere.