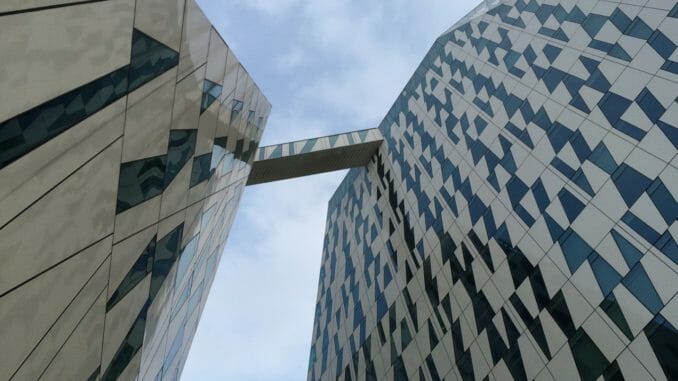 Denmark has a reputation for being socialist and simplistic. This is certainly a modern development, as Denmark also boasts Europe's oldest (uninterrupted) royal lineage, and all the charm of the continent's other capitals. So fear not luxury travelers, Copenhagen has world-class luxury hotels worthy of royalty.
Copenhagen's 5 –Star hotels mix aspects of both old-world elegance and modern design into a beautifully unique experience. For the visitors with a little budget to spare, here are the best 5-Star hotels Copenhagen has to offer.
At over 250 years old, perhaps Hotel D'Angleterre is running on its reputation and francophone name. Not a chance. D'Angleterre mixes sleek Scandinavian simplicity with old-school glamour. Don't be fooled by the turn of the century façade. Inside you'll find contemporary art seamlessly intertwined with classic gilded molding. You also can't beat the location, just steps away from Kongens Nytorv, one of the cities important transportation hubs. In the immediate area, you'll find Nyhavn and Copenhagen's central area, Indre By, perfect for shopping and strolling. If you desire heading to the Famous Tivoli Gardens, Amalienborg Palace, or the Operaen (New Opera House) the Hotel offers bikes to guests. Biking is a truly Danish way to travel, even for royalty. If you don't fancy going out at all, there is a luxurious spa, indoor pool, and fabulous restaurant/bar on site. Let the professional staff personalize your stay and make your vacation truly relaxing.
How would you like to stay in Denmark's most iconic attraction? At Hotel Nimb, you can be part of the breathtaking Tivoli experience. Its Anglo-Indian exterior belies a truly post-industrial décor. Again, Nimb mixes the expected with the eye opening. Staying at Tivoli means guests are right in the center of the action. Just two minutes walk from Copenhagen Central Station, its impossible to miss, if not a landmark in itself. To top it off, most rooms have a direct view of one of the world's most immaculate gardens. Nimb is where kitsch and comfort collide.
Located a bit more outside the city center, the Copenhagen Marriott Hotel features spectacular waterfront views and signature Danish style. Whereas, D'Angleterre, and Nimb encapsulate Copenhagen's glorious past,Copenhagen Marriott brings guests into the 21st century. Situated on one of Copenhagen's famous canals, the higher floors offer great views of the city itself. In the summer, strolling along the canals is a perfect way to spend a day. Offering all the services of a 5-star hotel, Copenhagen Marriott is a perfect place to relax along the water before that big meeting.
Radisson Blu Royal Hotel Copenhagen
Radisson Blu is ubiquitous in city centers across Europe. From Berlin to Stockholm, Radisson claims the best locations for its luxury line. The Royal Hotel Copenhagen is no different. Just 3 minutes walk from Copenhagen Central, the Royal Hotel Copenhagen is perfect for a quick layover, or as a base for a long stay. Close to Tivoli and the National Museum, guests at the Radisson Blu will never run out of things to see and do. Inside you will find a splendid representation of Scandinavian style. The wood paneling and monochrome flared furniture are typically local. The Radisson Blu Royal Hotel Copenhagen is the best of Danish design.
Absalon Hotel represents Copenhagen's free spirit. With multicolored, non-traditional furniture and a unique layout Absalon offers a different view of the city. Also, located close to the train station, this hotel is a little deeper in Copenhagen's hippest district. Vesterbro is home to the trendiest bars and restaurants in the city. Formerly the city's industrial center, Vesterbro has been repurposed into the perfect place for a night out.Copenhagen is a haven for free spirits and Vesterbro attracts people of all types. So if you enjoy an escape from the norm, Absalon is the place for you.
As the name may suggest, Copenhagen Admiral Hotel has a nautical twinge. Inside the exposed wood beams allude to its maritime roots. In the harbor outside guests are likely to see the relics of Copenhagen's port past. Located steps away from Amalienborg, the Admiral will make you feel like you are staying in a palace. With over 350 rooms, Copenhagen Admiral is very large but still manages to maintain a personal touch. The views of the Operaen across the water are truly special. The original ceilings will make you feel like you're in the past, while the staff will make sure you have every comfort of the present. You can literally sleep next to royalty at the Copenhagen Admiral.
Perhaps the best-located hotel on this list Skt. Petri is within walking distance of Norreport, Copenhagen's metro center. Furthermore, the city's famous towers are right outside your window. The iconic Rundetaarn (round tower) is only steps away. If you can make it to the top, you may see Skt. Petri is one of the best designed buildings in view. One the few modern buildings located in the heart of the old city, Skt. Petri offers modern accoutrements in ancient surroundings. With Copenhagen's main square, Trinity Church, and Copenhagen Cathedral all nearby, when you leave Skt. Petri you will inevitably stumble into a legendary location. Sometimes modern design and classic architecture do mix, and mix well.
The last 5-star hotel on this list probably shouldn't be here. That's because it's technically not withinCopenhagen's city limits. Located in the town of Kastrup, Hilton Copenhagen Airport is beyond the typical airport hotel. No shuttle bus required. Guests can literally walk, bags and all, from baggage claim in around 5 minutes. So if unfortunately your stay in Copenhagen is extremely short, a stay at the Hilton CopenhagenAirport offers incredible convenience. Taking the metro to the city takes around 30 minutes (walking included). So if you have some free time, trekking into the city is a pleasure. Then return at night and sleep secure knowing you can wake up right before your flight and still make it. Hilton Copenhagen Airport may not offer the cultural significance or unique design of the other hotels on this list, but for a short stay there is no other 5-star that provides the convenience factor of walking directly to and from your flight.