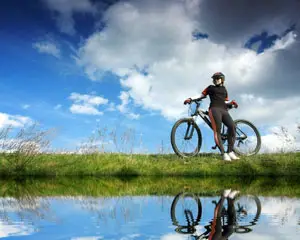 Biking is really a fun and great way to explore the beautiful surroundings of Denmark country. I've already shared with you the guided bike tour with Mike that you can take around Copenhagen. Now if you're the adventurous type, there's another way to tour this Nordic country by bicycle.
For people who love to pedal around without the rush, going on a self-guided bike and dine tour on Denmark's Funen Island is worth it. This option lets you take your own sweet time while biking through the wonderful attractions in several places without having to worry about catching up with the others. And you'll be fairly compensated with scrumptious three-course dinners that you can enjoy during your four-day Denmark tour.
First night accommodation is provided at the Knudsens Gaard Hotel in Odense and a bike with a front basket is what you'll use for your tour of Funen. Nyborg situated on the eastern coast of the island is the first destination. Nyborg is a small town with an old brick castle. Places of interest along the way are the 13th century St. Knud's Church and the museum of author Hans Christian Andersen. While in Nyborg, the Hotel Hesselet on the beach area is where you'll spend the night.
Second stop is Kerteminde, a fishing village which features a town aquarium and the Museum of impressionist painter Johannes Larsen. You will also find there the Funen School of Art and the painter's house built in 1901 plus you'll get the chance to experience the old-fashioned ambience of Tornoes Hotel. Going there you will see manor houses and farm stands.
The last stage of your self-guided bike tour will take you back to Odense. On the way, you will see the Ulriksholm Manor constructed in 1616 and the museum located in the Ladby village where an old ship believed to be 1,000 years old was discovered in 1934.