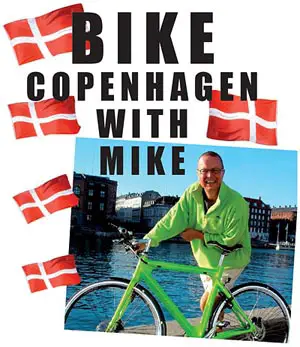 All bike lovers out there planning to visit Denmark anytime soon should read this. If it's still your first time to this country and you're raring to pedal around, it is highly recommended that you take a guided bike tour. In this way, you won't get lost and get out of the ordinary information of the wonderful sights you may not have read before.
Bike Copenhagen with Mike is a guided tour with Mike Sommerville, a resident of Denmark's capital of Copenhagen. This man started his unique program two years ago after visiting five continents and confirming that people are very hectic when it comes to traveling. His goal then was to provide people an alternative to slow down and enjoy Copenhagen's fresh air and beautiful spots. And his answer to that was his bike sightseeing around this lovely Scandinavian city.
During this guided bike tour that will take around three hours, bikers will be able to get to stop by and marvel at popular tourist attractions such as the Danish royal Amalienborg Palace, Copenhagen History Museum, the Assistens Cemetery where the famous author Hans Christian Andersen was buried, the Little Mermaid statue, the Opera House as well as wonderful views of nature.
What's interesting about this bike tour is that you will get first hand information about the sites from Mike Sommerville himself. You will get to know not just the names of the attractions but also the stories behind them. Mike's edge is he speaks very fluent English and answers all your questions as if he's been in Copenhagen for the longest time.
This Denmark capital has around 2.5 million bikes and 225 miles of dedicated bike paths. And if you're still not aware, 40 percent of the city's population pedal their way to work every day. So the next time you visit Denmark, pick your choice of a bike tour with Mike – city tour, night tour, countryside tour or individual tour.
Thanks for Flickr user Stig Nygaard for making the picture of the bike in front of the Metropolis building in Copenhagen available under a Creative Commons license.