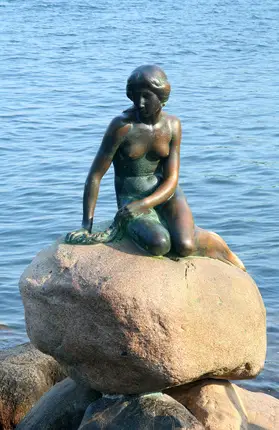 As some of you may already know by now, the famous Little Mermaid statue in Copenhagen will be traveling to Shanghai in China next year. This world renowned sculpture will be leaving her post on the Langelinie Quay and temporarily move to China.
The mermaid will grace the Danish pavilion at next year's World Expo 2010 in Shanghai sometime between the months of May and October. She will be away from her native land for about eight months beginning April 1, 2010.
So what does this mean then? No mermaid at all in Copenhagen? Fortunately, tourists and local residents will still get to see their favorite Danish sculpture in the city. The good news is that the heirs of the famous Little Mermaid sculptor Edvard Eriksen will be lending their personal replica of the statue to the Tivoli Gardens. This authentic copy of the mermaid will be displayed at the Tivoli Gardens lake from April 16 next year until the autumn holiday break. It's usually during these months that the Tivoli Gardens amusement park is closed to the general public.
The Little Mermaid is one of the most visited tourist attractions in Denmark. As one of the distinct landmarks of Copenhagen, this statue has become popular among tourists worldwide that when they finally set foot in the Danish capital one of their must-see spots is the mermaid sculpture.
It was in 1909 when brewer Carl Jacobsen ordered for a statue that will give honor to the Little Mermaid and sculptor Edvard Eriksen was commissioned to do it. Four years later, Jacobsen presented the statue to the City of Copenhagen and since then that specific date, August 23 (in the year 1913) was commemorated as the mermaid's birthday.
The Little Mermaid statue will be placed in the center of a basin with water from the Copenhagen Harbour itself during the exhibition at the World Expo in Shanghai. The basin will even allow visitors to take a dip. The design concept is courtesy of Bjarke Ingels Group which won in an earlier competition on how Denmark should be best presented at the Expo.