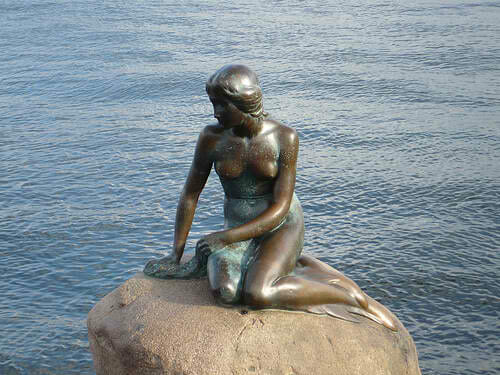 The little mermaid is the smallest attraction in Copenhagen. It is only four feet tall and she sits by the shore of the "Langelinie" cruise harbor in the old port district of Nyhavn, which is a short walk to the main pier and other tourist spots in Copenhagen.
We are all familiar with the Disney movie the Little Mermaid, which was based on Hans Christian Andersen's story which he wrote in 1836 about a 15 year old mermaid who goes to the surface of the sea and falls in love with a prince whom she saved from drowning. In exchange for legs, she trades her voice to the evil sea witch. The Disney version has a happy ending of course, but the real story ends tragically when the little mermaid no longer gets her prince and she transforms into cold sea foam.
It was in 1909 that the founder of Carlsberg beer, Carl Jacobsen attended Hans Beck's and Fini Henrique's ballet 'The Little Mermaid' which was based on the fairy tale by Hans Christian Andersen. He was so impressed that he asked Edvard Eriksen, a Danish sculptor to create a sculpture of the Little Mermaid. It was unveiled at the harbor in 1913 as a part of the city's initiative to decorate parks and public areas with classical and historic figures.
To this day, the Little Mermaid is the most famous tourist attraction in Denmark. It is also one of the most photographed statues in the world.
Image from celesteh