There is no doubt about it that Denmark remains to be one of the top tourist destinations in Europe and in the world. The past years can prove it and 2010 is sure to be another great year in terms of tourism for this Nordic country. Millions of people from all parts of the globe travel to Denmark each year and below you will find out where they mostly go to based on data from Denmark Statistics.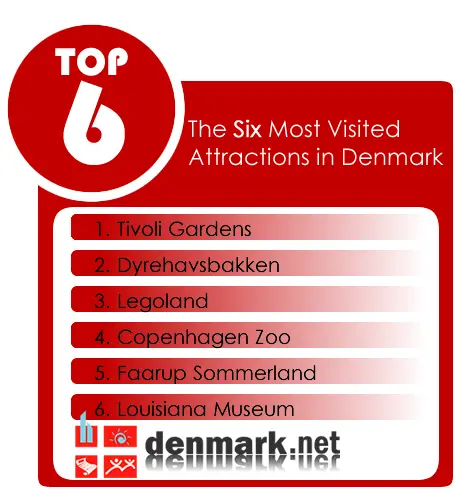 Tivoli Gardens – This popular Danish amusement park in the capital of Copenhagen attracts an estimated 4.4 million people each year. Established in 1843, this famous park features a wooden roller coaster and a large carousel for both the young and old visitors. It ranked 32nd in the World Tourism Organization's top 50 list of the most visited spots worldwide.
Dyrehavsbakken – This refers to the Deer Park Hill also known as Bakken or The Hill. Situated about 8 miles towards the northern part of Copenhagen, this oldest amusement park in the world receives some 2.7 million people every year. It has five roller coasters including a wooden one and other wonderful rides for people of all ages.
Legoland – This themed amusement park in Billund near the first Lego factory attracts both kids and adults. Other than the miniature structures depicting top tourist landmarks in the world using millions of Lego bricks, the park also features great rides, a resort and hotel.
Zoologisk Have – Also known as the Copenhagen Zoo, this place founded in 1859 raises various kinds of wild animals kept in state of the art enclosures. It initially focused, though, on breeding elephants the reason for having its well known Elefanthaus.
Faarup Sommerland – This amusement park in North Jutland is famous for family outings. It has an aquapark, rides and a 4D cinema. More than 570,000 people visited in 2008.
Louisiana Museum – A museum of modern art located in northern Zealand, Louisiana showcases a variety of art masterpieces numbering more than 3,000 created by Danish and international artists.