Tourists in Copenhagen are in for a great shopping spree when they're in this capital of Denmark. It is because this city center is home to Europe's longest pedestrian shopping area. The street name to remember is Stroget which actually means the stroke.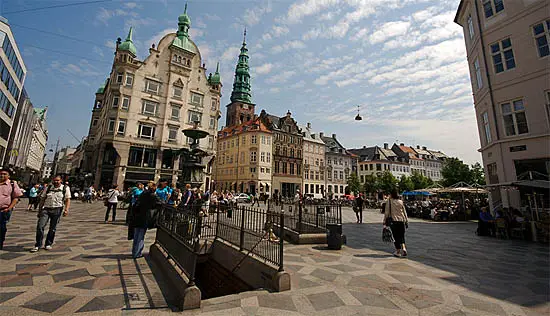 The Stroget area is made up of six streets and is bounded by four large squares – the City Hall Square, the central town square, the King's new square and another square. Here on this long stretch, one can find many famous and high end shops including the Illums Bolighus, Magasin du Nord, the Royal Copenhagen Porcelain Manufactory as well as numerous souvenir shops, cafes and fast food restaurants. As Stroget is a pedestrian strip, the best way to check out the great shops there is by foot.
For those who love to unwind at cafes, the Café Europa 1989 on the Amagertorv stretch of Stroget is highly recommended. Here one can experience the classic café ambience of Copenhagen that is a mix of the bistros of Paris, the coffee houses of Rome and the tapas bars of Spain.
This famous pedestrian shopping strip in Copenhagen was established 47 years ago in November 1962. The city's cars then were on the rise during that time and officials thought of closing the street to traffic. Initially, the area was closed only for two days during the Christmas season but the closure was later on extended until it became permanent. At first, local merchants got anxious because of the idea thinking it won't be good for business but fortunately, the closure became more of a benefit as more businesses sprouted in the area attracting an increasing number of shoppers.
Today, the Stroget stretch which is very accessible to other popular tourist spots in the Danish capital accommodates some 250,000 people notably during the summer season and approximately 120,000 during winter. Other than shopping, there are lots of entertainment being offered in the area.