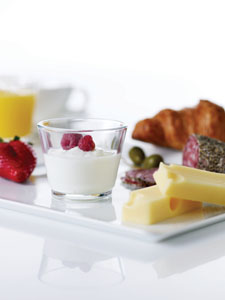 Do you love fresh milk? What about yoghurts and cheese? Health conscious people should readily say yes to these.
But we're not talking about just the ordinary dairy products here. Because in Tivoli Denmark, there's one place where tourists can get a taste of unique dairy treats. The name of this gourmet house is Chr. Hansen at Denmark's Tivoli Gardens in the capital of Copenhagen. This is the very first dairy of the internationally renowned amusement park.
What visitors can taste there are fresh organic milk taken from the cows just a few hours before you arrive as well as creamy yoghurts that were allowed to develop naturally and slowly. For those who love butter, perhaps it's only at Chr. Hansen where you can taste homemade churned butter with French made and sun-dried salt. Other premium dairy products available include soured whole milk, buttermilk, cottage cheese, sour cream and chocolate milk.
But that's not all there is to it. This gourmet dairy outlet in Tivoli Denmark has more one of a kind products being planned such as the fruity probiotic whey shots. This exciting dairy treat and the already existing products of Chr. Hansen are good for the health.
This dairy outlet in Tivoli Denmark which opened to the public last May 1 is operated by Logismose, a respected producer and importer of fine foods in the country. It boasts of using only the finest raw materials that have been examined very well. Chr. Hansen is known for having the world's biggest collection of lactic acid bacteria used in making dairy products.
Chr. Hansen has been a major player in the global dairy industry for more than 130 years now. You can find Chr. Hansen at the NIMB gourmet area where a gourmet restaurant, deli shop, wine bar and hotel suites are also situated. Denmark's Tivoli Gardens accommodates more than four million visitors each year.