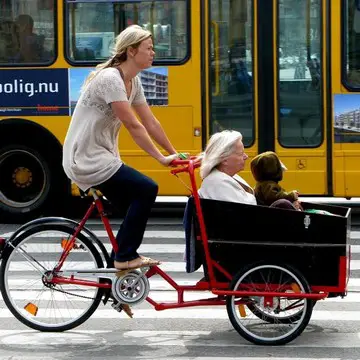 Bikes are part of the Danish lifestyle. Thousands or even millions of people in Denmark use this eco-friendly form of transportation every day to go to work or do errands of various kinds.
But it's not the just the single two-wheeled bikes that are commonly used in the country as many people there also use the three and four-wheelers or the so-called cargo bikes. This type of bicycle is normally used to transport small children and goods and approximately six percent of households notably in the capital of Copenhagen own this carrier bike. In total, some 15,000 of these large bikes are in need of a place for parking purposes.
The problem with cargo bikes is that they have no suitable parking place especially for people living in apartment buildings. It is also hard to use the basement as their parking space.
Fortunately in Copenhagen, officials of the city's Bicycle Office there have thought of a plan – a car as parking area for cargo bikes. It's not a real car, though, as it's a fiberglass model but has four separate cabins inside to accommodate the carrier bikes. The model car is an eco-friendly unit as it will utilize solar energy to provide lighting via four solar headlights inside the cabins during nighttime. The light also automatically turns on when the door is opened.
Two storage cars have initially been developed under this pilot project and are placed at Krusagade 24 in Vesterbro. Selected users will be given their own key for the storage unit.

Copenhagen city officials recognize the contribution of cargo bike owners in their campaign to prevent global warming from worsening and therefore help preserve the environment. The deputy mayor for the technical and environmental department has expressed hope the project will be able to come up with more of these storage cars next year.