Today marks a milestone for Olagur Eliasson, an artist of Danish and Icelandic descent. May 16 is a very special day for Eliasson who will inaugurate his first major outdoor public art projectin the U.S.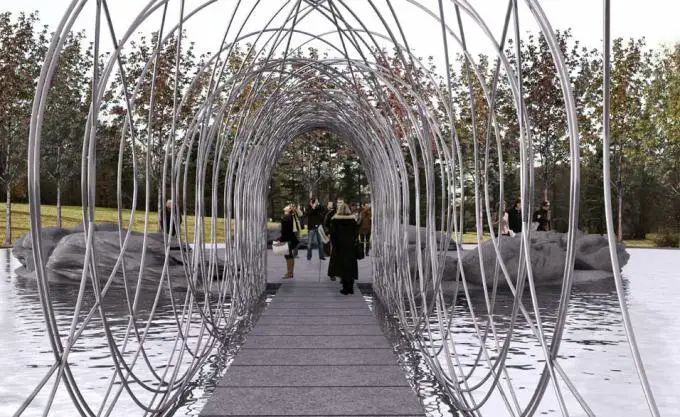 Yes, it's related to visual arts but it's not a painting or a sculpture. This art work called "The Parliament of Reality" is a man-made island that took four years to complete. Just imagine an island measuring 100 feet in diameter and surrounded by a circular lake, wild grasses and some 24 trees. The amazing features of the place include a bluestone floor pattern that looks like a compass and 30 river-washed boulders that serve as an outdoor seating space for students and other visitors. 
Picture out some more of this unique island made by Eliasson. To reach the island, one has to walk through a stainless steel lattice-canopied bridge about 20 feet long giving visitors the illusion of going on stage. The scene at night is said to be more dramatic.
Now as to where is this island located, it is situated opposite the Richard B. Fisher Center for the Performing Arts. This $1.4 million project was commissioned by the Center for Curatorial Studies at Bard College in New York in keeping with its goal to incorporate contemporary art into the school's unique landscape. Eliasson based his design on the original Icelandic parliament called the Althing, one of the earliest democratic forums worldwide.
The Danish-Icelandic artist wanted this piece of art to put heighten a person's sensorial experience during his visit. His aim was also to provide space that combines the natural with the man-made and one that gives anybody who goes there a good feeling. All throughout the year, this man-made island is sure to give visitors and students a wonderful place to relax and have good conversation.