Istria, which is a peninsula in the Adriatic Sea, features approximately 450 kilometers of coastline. It is a very popular destination, due to the peninsula's more than 400 kilometres of excellent beaches. Many visitors come here to enjoy the warm and sunny climate, and the inviting azure water. The most popular resorts are located along the coastline. Besides Pula, they include the cities of Porec, Rovinj, Umag, Novigrad, Vsar, Rabac and Opatija. The coastal cities not only provide opportunities for beach vacation Istria, but also for watersports. Cliff diving is one of the possibilities – but so is wreck diving for anything from Roman galleys to World War I naval ships.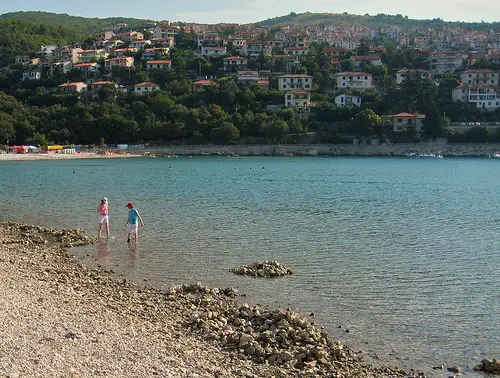 The area has a long tradition of winemaking, and as the distances are short, the peninsula is an obvious target for a wine holiday Istria. Enjoy the beautiful landscape and the sight of the fertile wine fields, as you drive between the vineyards. Others choose to accept the challenges at one of the local golf courses.
In 177 B.C. Istria was conquered by the Roman Empire, which ruled the area for six centuries. During this period of time, various buildings such as an amphitheatre and a triumphal arch were constructed in the city of Pula. The streets in the oldest part of the city still feature the original Roman paving, and a walk here is simply a must.
The amphitheatre was construced during the first century. At that time, it was the sixth largest in the world. It remains so, but in addition it is now one of the best preserved amphitheatres from antiquity. It is still in use, as film festivals are held here in the summer.
Many centuries later, in 1813, Austria gained control over Istria, and Pula became the otherwise landlocked empire's main naval base as well as a major shipbuilding centre. The massive investments meant the industrialization of Pula, but the shipyards and other naval installations were constructed without damaging the city's ancient buildings. In effect, the modern city has grown around the old one, which creates a fascinating feeling of walking through different epochs in the city's history.
The narrow Fazana Strait separates Istria from the fourteen Brionian Islands, which have become famous for their natural beauty. In 1945 the islands became part of Yugoslavia and was made the personal summer residence of the country's leader, Josip Tito. He received almost 100 heads of state as well as several dignitaries here, many of which brought animals as a gift to their host. As a result, a safari park was created on the island of Veli Brijun. The trip across the Fazana Strait is definitely worth the effort, as you can easily spend an entire day enjoying the beautiful landscape, which is now part of a National Park.
Go to Urlaub Istrien or Ferienhaus Istrien to find the perfecet holiday home for your stay in Istria.